What is it about your dad's best advice that has had staying power throughout your life? Even if Dad got on your nerves with his caution and counsel while you were growing up, you've probably since learned that he knew what he was talking about all along.
Whether Dad consoled you after a childhood sweetheart broke your heart or taught you by example how to treat others, "dad advice" has a way of making more sense as you get older, advance in your career or start your own family.
Did your dad offer life tips while sweating under the hood of a car, manning the barbecue grill or driving you to soccer games on weekends? Whatever image comes to mind when you think of your dad, his best advice likely guides your choices today.
"Enjoy the Little Moments in Life"
Mike Collins' dad, Herb, was a hard-working technician for the local telephone company in Jersey City, New Jersey. When Mike was in high school, Herb would scramble to drive Mike to school each morning before heading to work. One morning, Mike offered to take public transport to school instead.
"Are you nuts?" Herb asked his son. "That ten-minute ride with you is the best part of my day." Mike didn't think much of his dad's comment until years later when Mike became a father himself.
"I look back at that morning and realize he was teaching me a valuable lesson about enjoying the little moments in life," says Mike, who now chauffeurs his own children to school and soccer practices. "That short drive gives me a chance to connect with my kids one-on-one."
Mike's dad passed away 15 years ago, but his example still directs Mike's life today. "I wish I could say to him, 'Hey Dad, I totally get it,'" says Mike, who operates a personal finance website based in Matawan, New Jersey. "Now that I'm a dad, I totally cherish those little moments with my kids."
"Don't Settle for the Bare Minimum"
When Oscar Verduga was nine years old, his dad, Wilson, moved the family from Santo Domingo, Ecuador, to Toronto, Ontario, to offer Oscar and his siblings a better future.
Watching his family start over from scratch in Canada taught Oscar the value of hard work and perseverance. "My dad always told me, 'No matter what you do, make sure you're the best in that field. Don't settle for just the bare minimum,'" says Oscar.
"Every time I start to get comfortable with my business, I remember his words and start looking for ways to continue to improve and seek discomfort," says Oscar, who now owns a home inspection company in Barrie, Ontario. "It's in discomfort that we learn and grow."
"Have a Plan and Stick to It"
Vid Lamonté Buggs Jr.'s dad became the man of the home early, taking a paper route at a young age to contribute to the household. Vid Sr. worked hard, earning an engineering degree and later putting three kids through college.
"My dad said that when you have a plan and see it through daily, you will succeed," says Vid, a motivational speaker in Tampa, Florida. "Things may not always go how you would like, but if you keep a plan, more times than not, you will accomplish your goal."
Vid took his dad's best advice in college, perfecting his basketball game by shooting 500 shots a day in the gym. "When I reached that goal, I upped the number," says Vid, who went on to play professional and semi-professional basketball for many years.
"My dad always told me, 'As long as you do your best, you will have no regrets,'" says Vid. "Keep working hard and doing your best, and it will pay off eventually.'"
"Show Respect to Everyone"
Don Allison's dad, Charlie, taught him by example to treat everyone with respect. Whether bantering with restaurant servers, chatting up the gas station attendant, or negotiating contracts with union workers as an executive with his company, Charlie listened to each person with respect.
"Negotiating a contract with the workers' union can be a contentious process," says Don. "Yet even when negotiations were over, leaders of the union would greet Dad warmly and invite our family to cookouts, fishing trips and other gatherings. My dad always had the respect of the rank-and-file of the factory."
Following his dad's example also led Don to benefit from the goodwill of those he treated respectfully. The waitress he always tipped generously moved on to manage a car dealership, going out of her way to help Don resolve a difficult warranty issue. The pharmacy worker Don cheerfully acknowledged located hand sanitizer for Charlie, who has a compromised immune system, when the commodity was scarce.
"No matter the person's station in life, Dad shows respect in dealing with every individual," says Don, who owns a publishing company in Bryan, Ohio. "Dad always tries to make the world a little better for the people around him, and I try to follow that."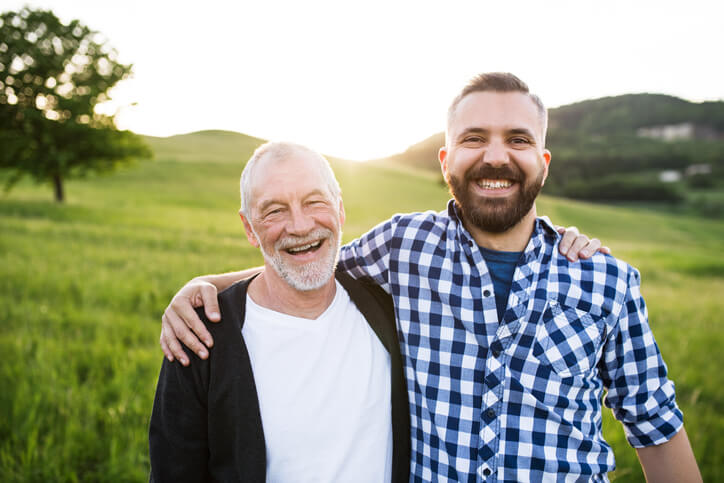 "Put Your Children and Family First"
When Andrew Selepak was two years old, his dad, Ron, left a banking job with perks such as embassy parties in Washington, D.C., to take a federal government job, moving to the suburbs for better schools and opportunities for Andrew and the family.
"Living in the suburbs, my dad had a longer commute, leaving before the sun was up and often coming home after dark," says Andrew. Even with the lengthy commute, Ron made time to coach Andrew's little league baseball and basketball teams. "I saw that a father's job is to be involved and take an active role in his child's life," says Andrew, a professor at the University of Florida in Gainesville who hopes to have kids of his own someday.
"He showed me that when you bring a child into the world, that child becomes your main priority. I have a close relationship with Dad now simply because he was there for me then and still is today."
Whether you still get words of wisdom straight from your dad or they live in your memories, having a good dad goes a long way towards helping your journey through life.
Has Dad's wisdom, best advice or outlook shaped your life in a positive way? Tell us about the best advice you took to heart in the comments.