Insurance agents might consider proposing additional coverage options or special event riders to better protect their clients.
Although standard home insurance policies include some protection for event or guest mishaps that happen on the premises, that coverage can be severely limited and is not designed to cover the full exposure of an event like a wedding.
This year, 95% of engaged couples with spring weddings decided to postpone or reschedule their nuptials, according to The Knot. As the new coronavirus continues to spread, some couples have opted for intimate backyard weddings that take place at their home or another residence.
Pandemic restrictions dictate social gatherings must be small, but even the tiniest of weddings are likely to see as many or more event mishaps as a large, venue-hosted wedding. What's more, any host of such an event must worry about whether their insurance will cover the house and its guests if something goes wrong.
Unlike professional event venues that carry hundreds of thousands of dollars in liability coverage — or event planners who often sell policies that cover damage or cancellation — the host of a backyard wedding now retains all the potential risks.
Time to consult an insurance agent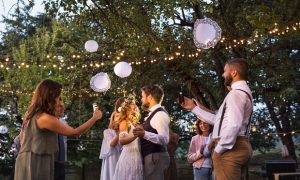 When reviewing client and prospect insurance needs, agents should inquire about any events, weddings or parties planned on their property and discuss what their home insurance policy may or may not cover.
Couples and their families may be surprised by the level of protection (or lack thereof) they have with their existing home insurance policy. Agents might consider proposing additional coverage options to help protect clients from backyard nuptial calamities as well as special event riders and standalone policies to boost their client's existing liability insurance and protection from cancellations.
To help clients plan for a backyard pandemic wedding, agents should review which disasters could happen and talk about the coverage options they have or might need to add to their existing home insurance policy to ensure they're protected.
What follows are just some of the risks associated with backyard weddings.
Day-of disasters
Traditional home insurance covers the generally unfortunate incidents that hosts and newlyweds could face during a wedding. For example, if a guest trips and breaks their leg on the makeshift dance floor, the homeowners' personal liability coverage will pay for legal and medical bills.
If the host does not have the coverage and fails to show what courts call "reasonable care," which involves a degree of caution and concern for their own safety as well as the safety of those in their home, the homeowner could be held liable for the injury.
Home insurance also covers the loss of wedding gifts, should the unexpected happen such as a guest stealing the homeowner's presents or sprinklers turning on and damaging the gifts beyond repair.
Cooking catastrophes
To reduce on-site headcount and save money, wedding hosts might decide to prepare and serve food out of their own kitchen. While this can help to reduce the potential of COVID 19-transmission and maintain a wedding budget, it also poses additional risks.
According to the National Fire Protection Association (NFPA), cooking is the leading cause of home structure fires. While damage caused by a fire can be covered by home insurance, fires caused by a caterer or contractor are that vendor's responsibility. (In either case, the newlyweds' dream of a fairy-tale wedding will go up in smoke.)
Ahead of a backyard wedding and during any review of client insurance coverage, agents might recommend additional liability coverage to protect clients from financial loss through add-on riders, or even secondary policies to provide protection beyond existing insurance limits, such as umbrella insurance, which can provide supplemental coverage that increases their liability limits.
Liquor liability
Weddings usually involve liquor consumption. When alcohol is involved, there is a greater chance for accidents and other misfortunes.
While traditional wedding venues typically have their own liquor liability coverage, it isn't a protection that many homeowners have in their home insurance policy. However, should a backyard wedding guest drink too much, drive and get in a car accident, the event hosts could be held liable for injuries to third parties and car passengers as well as responsible for any damages resulting from the accident, not to mention subsequent claims and lawsuits. While some coverage is provided by a standard home insurance policy, that coverage can be severely limited and is not designed to cover the full exposure of an event like a wedding.
If alcohol is going to be served at any home wedding, insurance agents should suggest their clients obtain an add-on liquor liability policy to avoid any drunken mishaps for which the homeowner could be found liable.
Some clients may be rightfully nervous about managing the unexpected during a backyard wedding. Insurance agents can help put these clients at ease by playing out any and all situations that could happen during the big day and then discuss what can and cannot be covered by their current policy. An impending wedding is also a great opportunity to suggest adding umbrella insurance to a client's portfolio. The best carriers make it fast and easy to add umbrella insurance to an existing insurance policy. The drop-down protection can help with future potential risks, like a new boat or pool, or even a second backyard wedding.